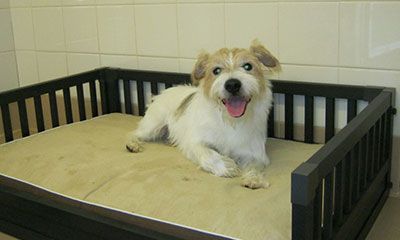 Where your Pet is Our World!
For reservations please call: 602-494-4674
Hopi Animal Hospital knows what pet owners look for in a boarding facility, peace of mind! That's why we a have medical staff on site and a wonderful boarding staff dedicated to making your best friend comfortable. We provide a safe, sanitary environment sure to make you feel great about leaving your furry family member with us. Animals enjoy supervised individual or group play time, as well as plenty of personal attention, including brushing, cuddling, and belly rubs! Hopi Animal Hospital also offers daycare! Whether you are away for the day or getting your carpets cleaned, your pet is always welcome! Our daycare dogs are placed in a group based on size and/or temperament. We offer full and half days or daycare and boarding packages at a discounted rate. **Please call for package rates.**
All Inclusive pricing!
We understand a pets' need, therefore, we do not charge extra for what it takes to give the absolute best care to your best friend!
Our pricing includes the following:
Spacious suites
Air conditioned facility
Deluxe & Luxury suites include private daybeds & ceiling fans
At least four potty breaks per day
Several group or individual playtimes in our family room, furnished with a couch and t.v.
Plenty of toys
Comfortable bedding & cots
Food (K9 Purina EN and feline Proplan)
Special feedings
Treats
Medications, including insulin
Hydro surge exit bath for canines
Medical staff on site
CPR and first aid certified kennel staff
Tons of love and belly rubs!
Because we would like your best friend to be as comfortable as possible, feel free to bring in belongings such as, toys, bedding, or a shirt with your scent!
Vaccination & Flea/Tick Requirements
Upon arrival we ask that you bring proof of your pets' current vaccinations. Vaccines must have been given by a licensed veterinarian, sorry, home-given vaccines will not be accepted.
Vaccines include:
Dogs: Rabies, DA2PPV(or similar combo), Bordetella, K9 Influenza *Initial K9 Influenza vaccine is a 2 part series that takes a minimum of 1 month to complete
Cats: Rabies, FELV, FVRCP-C
If your pet is not current, we will provide the proper vaccinations needed. An examination is required for vaccinations.
To keep our facility pest free, we require that all of our guests are current on a flea and tick treatment. We will give a topical or oral treatment that will keep your pet free of flea and ticks for 30 days. If your pet is current on a treatment, please provide proof upon arrival.
​​​​​​​Please arrive 5-10 minutes early to fill out paperwork or print and complete the Boarding Contract and Boarding Agreement on our online forms page and bring with you at time of drop off.